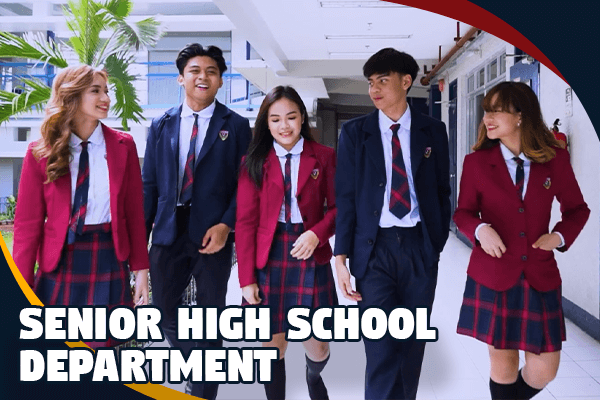 The Senior High School Department is composed of 11th and 12th Grade.
PROGRAM OFFERINGS
SCIENCE, TECHNOLOGY, ENGINEERING, AND MATHEMATICS STRAND (S.T.E.M.)
This strand will focus on University and College courses such as Chemical Engineering, Electrical Engineering, Industrial Engineering, Computer Engineering, Safety Engineering, Civil Engineering, Marine Engineering, Information Technology, Computer Programming, Data Encoding, Data Analyzing, Pre-Medical Courses, Doctor of Medicine, Doctor of Dental Medicine, Nursing, Medical Technology, Radiologic Technology, Phlebotomy, Pharmacy, Chemical Science, Biological Science, Physical Science, Organic Chemistry, etc.
GENERAL ACADEMIC STRAND (GAS)
For students who are still in process of choosing their preferred stand, GAS offers different specialized subjects from different strands as Electives.
ACCOUNTANCY, BUSINESS, AND MANAGEMENT STRAND (ABM)
A special program offering of Stonyhurst Southville International School-Batangas City Campus. Take your 11th and 12th Grade here in SSIS and get your College Diploma in just 2.5 Years at Southville International School Affiliated with Foreign Universities (SISFU)
ISHSDP IN SSIS
National Curriculum enhanced by International curriculum and courses of studies
Internationally benchmarked curriculum, instruction, and assessment
Technology-driven Curriculum
Internationally accepted and recognized Diploma
100% Acceptance to TOP universities annually
Personalized and in-depth Career Planning and CounselingSmall class size where minds have room to expand
Leverage to choose what subjects to take and at what level
English Language is used as a medium of instruction and communication
A school that nurtures but at the same time challenges and provides opportunities to achieve
Competent, caring, and qualified teachers
Adequate, well-maintained school facilities